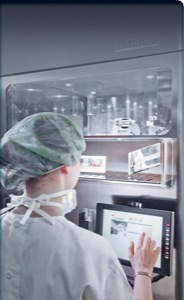 The risks inherent in IV drug compounding—most recently underscored by the ongoing fallout of the meningitis compounding crisis—has brought renewed attention to robotic IV compounding systems.

The contamination debacle prodded hospitals that had already been considering robotics to accelerate their decision-making processes, according to Bill Shields, vice president of marketing and sales at IHS global, which offers RIVA, a fully automated IV compounding robot.
"We've been talking to these hospitals for a long time," Mr. Shields said. "Many have been saying 'yes, we want to get this, but not immediately.' Now they're taking another hard look at compounding automation."
One of the driving design considerations for RIVA was minimizing human factors in the compounding equation. Designers viewed in-hospital compounding as a manufacturing process where safety breaches, production bottlenecks and errors arise from inescapable human foibles. With the robot, operators load stock drug vials, diluent bags and empty syringes and IV bags; set the production parameters; start the machine; and then collect the finished and labeled admixture bags or syringes from output chutes.
"Other than taking the dust caps off the vials when you load them, there's almost no touching of the medication containers before the robot goes to work," said Kevin Jones, PharmD, MBA, the director of pharmacy at Primary Children's Medical Center, in Salt Lake City, which began using the RIVA robot in early 2009. "Once the racks are filled up, we can turn it loose for three to five hours."
The unit operates 18 to 22 hours daily, during which it can fill 400 to 500 syringes. About half of the 900,000 IV doses prepared by the hospital pharmacy annually come out of the robot, which can be programmed to produce batches of the same drug and dose or individualized, patient-specific doses.
According to IHS, preparing 350 syringes with RIVA requires three hours of a technician's time. All of the manipulations occur inside the robot's aseptic environment. Accuracy checks include weighing drug vials before and after use, weighing syringes before and after filling, comparing a photo of drug labels with file photos, and bar-code scanning. The machine rejects preparations that fail any of those tests. Pulsed ultraviolet light bombards vial access points for sanitization. According to Dr. Jones, periodic testing for contaminants, which began shortly after RIVA's installation, has yet to return a single positive culture.
RIVA's current price tag is $1.35 million, plus an annual maintenance fee of $130,000, according to IHS. That means the hospitals need solid assurance that the capital expenditure will pay off—and pay back. (RIVA's cost has risen about 25% since its 2007 introduction, an increase commensurate with added features and functionality, according to Mr. Shields.)
Dr. Jones' foremost financial justification for the robot to administrators was the potential to reduce losses related to drug waste. "There's lots of wasted medications at a pediatric hospital because we prepare so many customized, weight-based doses that cannot be redirected to other patients," he explained. Dr. Jones estimated that monthly waste-related losses have dropped from $120,000 to $45,000. "Theoretically, you could do that without a robot, but this way we also eliminate worries about contamination and errors." The hospital, he added, recouped the purchase price in about three years.
One recurring error prior to the RIVA installation was narcotics overdoses, which occurred when technicians stocked automatic dispensing cabinets in pediatric areas with adult doses. The error reached the patient, Dr. Jones noted, but the mistake was caught early, reversing agents were quickly administered and no lasting patient harm occurred. The robot has eliminated those types of dispensing errors and similar mistakes, Dr. Jones said. "We also have a rule that vancomycin bags used to draw syringes must be made by the robot, because we've had errors in the past where they were not made correctly or when the drug was omitted from the bag."
The robot also has relieved some pressure caused by drug shortages. For example, when vendors ran out of 25% prefilled dextrose syringes (kept in crash carts for cardiac emergencies), RIVA made them.
The first RIVA Installation Site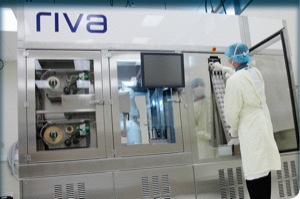 Children's Hospital of Orange County, Orange, Calif., attained similarly noteworthy savings after installing RIVA in 2007 (and becoming the first installation site), according to Rita Jew, PharmD, FASHP, the executive director of pharmacy. Because of its newfound ability to produce drug batches more frequently—and, therefore, closer to when they are actually needed—the pharmacy narrowed the time gap between drug order and delivery to patient floors and prepared fewer syringes after prescriber orders were discontinued or changed or patients were moved.
"Wastage of IV drugs dropped by one-third," Dr. Jew said. When colleagues at another hospital attempted the same tactic via manual compounding, they needed additional staffing. Moreover, per-dose costs fell in conjunction with decreased reliance on external compounders. And even at the volume of in-house IV compounding, Dr. Jew reduced the number of pharmacy technicians in the compounding pharmacy, yet hired more clinical pharmacists and increased direct patient care activities. Overall, the savings and added efficiencies translated to a three-year return on investment.
Before the robot, the reported error rate for IV medications from the hospital's compounding pharmacy was slightly below 1%. The post-installation rate is zero. To be certain, the pharmacy still conducts random checks of 10% of patient-specific medication batches.
"Introducing this big robot really worried people at the beginning," Dr. Jew said. "At first, people were quick to criticize it. Now if RIVA is down, they feel the pain."
Both pharmacists report that RIVA does break down, although infrequently. Usually the periods of downtime last an hour or two, Dr. Jones said, adding that only twice in four years has the robot crashed for longer than a day. Dr. Jew said downtime with the robot was relatively common in the months after installation and often involved software glitches. Failures are now rare—perhaps once a quarter—and typically are caused by worn parts, she said.
"It is important to note that Drs. Jones' and Jew's RIVA systems were considered our beta installations," Mr. Shields said. "That would explain the downtime they experienced in the beginning. Those specific issues were resolved several years ago through our system upgrades."
RIVA is a big machine, requiring about 180 square feet of floor space. Because hospital sterile compounding rooms are often tight to begin with, accommodating such bulk can be a formidable challenge. Dr. Jones said he had to partition his small clean room to allow ongoing manual compounding. "The resulting work area was very cramped, but the installation was completed ahead of schedule, which helped remedy the situation," he said. Afterward, the change in pharmacy workflow created "some anxiety," but overall the conversion went smoothly.
Another Robotic Solution
A more recent entrant to the robotic compounding arena, i.v.STATION, from Health Robotics, which launched in 2011, concedes capacity and more staff attention in favor of smaller size and lower price: Its physical footprint covers nine square feet, and the machine needs 20 square feet for operation and maintenance. The system is listed at $350,000 (plus a $50,000 annual service contract) and performs essentially the same functions as RIVA, according to Health Robotics. Both machines, according to their respective manufacturers, can compound and dilute liquids and reconstitute powders. Both are ISO Class 5 air-controlled environments that meet United States Pharmacopeia (USP) Chapter <797> standards for compounding sterile preparations, and both are compatible with many, although not all, stock vials and solution bags. The i.v.STATION handles only nonhazardous chemicals, Health Robotics explained, but when augmented with a chemotherapy module that requires a bit of additional floor space, it becomes the i.v.STATION ONCO for preparing oncology drugs.
Although some internal process variations distinguish the two systems, "the intended final products are identical," said Gaspar DeViedma, the executive vice president of Health Robotics and its chief designer. The i.v.STATION holds 42 empty syringes and can fill 40 syringes (or 50 bags) per hour, including the time required to reload the machine, which holds 25 empty IV bags. Mr. DeViedma added that bags can be loaded while the machine is running. RIVA holds up to 450 syringes, with outputs of up to 50 syringes or 25 bags hourly, IHS noted.
"In my opinion as a designer, I felt that the added pharmacy real estate needed to accommodate a much longer production queue was not a good tradeoff," Mr. DeViedma said. "Both systems still produce just one syringe or IV bag at a time." He explained that the i.v.STATION fits syringes with tamper-resistant Luer-Lok caps, which accounts for the somewhat slower production rate. RIVA uses standard caps.
Health Robotics has taken a modular approach by tying various smaller components together through a central control hub, which allows users to coordinate the operation of multiple units and position them at remote locations. The University of Tennessee Medical Center purchased the i.v.STATION because it provided "exactly what the medical center was looking for," according to the center's pharmacy director, Kim Mason, PharmD. "After thorough research, we realized that i.v.STATION was best suited for our specific needs," she said. "Our intent for this robot was not large batch processing or pediatric preparations but rather to minimize reliance on outsourced products and the associated price premiums." The robot is awaiting installation.
Robotics technology has "dramatically changed how we do IV compounding in our facility," said Bill Churchill, MS, RPh, the chief of service in the Department of Pharmacy at Brigham and Women's Hospital, in Boston, which leases a pair of i.v.STATIONs, as well as four i.v.SOFT Assist semi-automated compounding stations. "I was looking for a complete system with workflow software to control all the components that could interact with our pharmacy system," Mr. Churchill said. "That has allowed me to scale my operation appropriately—in other words, build it as large or small as I want. I also needed components that could fit into our rather small clean room and be positioned remotely." He estimated that the work done by the robots equals the output of two full-time technicians working around the clock. Having multiple robots creates flexibility, too: While one prepares large batches, the other can work on patient-specific doses, for example. And if one crashes, the other can be ramped up to fill the gap.
As with any mechanical device, crashes are inevitable. "Very early on, there were some mechanical and software problems that had to be addressed," Mr. Churchill said. "Over time, the i.v.STATION support for both the software and the hardware dramatically improved, and so has reliability and performance."
The two i.v.STATIONs yield 7,000 to 8,000 doses monthly—well below their limits. Behind the deficit are shortages or sporadic supplies of key drug stocks, such as fentanyl, hydromorphone and midazolam, Mr. Churchill explained. "We want to make those on the robot, but we still have to rely on outsourcing."
He noted that the robot still has some limitations with regard to the vial sizes it can handle, but he said that he anticipates that as the robotic compounding field advances, those and other technological limitations will fall away. When that happens—and national drug shortage issues move toward resolution—he anticipates a dramatic ramp-up in robotic IV production. Mr. Churchill also plans to add several more robots to his stable.
Dr. Jones acknowledges the value and flexibility of multiple smaller robots, particularly when space is at a premium. But after a good deal of consideration (he's still shopping for a second robot dedicated to chemotherapy), he said he still favors longer uninterrupted production runs and less human–machine interaction.
"To me, the biggest advantage of RIVA is that you can load so much into it and let the machine run for hours," Dr. Jones said. "That means there's less human touching of the machine and materials and a lower risk for drug contamination. If you're configured with central distribution, as we are, it's no advantage to have two or three of the smaller robots compared to one big one." Dr. Jones is also leery of putting robots on nursing units, which, although convenient, raises concerns about fungal and bacterial contamination risks, in his view.
Whether one of the robotic compounding models represented by these two machines gains the upper hand, one thing is certain: The old ways are fading.
"We are at the dawn of a new age of technology and this is just the first generation of sterile IV compounding robots," Mr. Churchill said. "They've met my expectation and do exactly as advertised. But I expect in the next several years they will change substantially, with more functionality, more features and more capabilities. I see nothing but growth for IV robotics. One of the key decisions pharmacy leaders face is whether to buy the technology now while it's still developing, or lease it until the technology matures."