Effectively integrating biosimilar drugs into the U.S. market will require careful collaboration between manufacturers and regulators, according to clinicians who spoke during a recent web conference hosted by the Institute for Safe Medication Practices (ISMP).
For a number of blockbuster biologic drugs, the road ahead leads to the so-called patent cliff. Several drugs will lose their market protection within the next decade, including adalimumab in 2016 (Humira, Abbott) and trastuzumab in 2019 (Herceptin, Genentech). At the same time, the market for biologics is booming, with worldwide sales climbing from $46 billion in 2002 to $169 billion in 2012, an IMS Health report estimated. As the demand for biologics continues to grow, physicians, regulators and patients are looking to biosimilars, the off-patent compounds that are comparable to biologics— although not identical copies— to help rein in costs.
"We definitely need biosimilars as a strategy to reduce our health care costs," said Edward Li, PharmD, an associate professor in the Department of Pharmacy Practice at the University of New England, in Portland, Maine, who spoke during the ISMP seminar.
The pathways to approval for biosimilars and generic drugs run parallel, although there are a few important distinctions. Under the Biologics Price Competition and Innovation (BPCI) Act, part of the Affordable Care Act, a manufacturer can apply for a shortened approval process through the FDA. Previously, in 1984, the U.S. Drug Price Competition and Patent Term Restoration Act had paved the way for a standard method of approving nonbranded medication through an Abbreviated New Drug Application. At that time, however, Congress excluded biologic drugs from the abbreviated pathway, citing the difficulty of manufacturing these compounds.
"When you consider small molecule drugs," Dr. Li said during the ISMP conference, "those are relatively simple [to produce] compared to a biologic manufacturing process."
Big—but Not Easy
Part of the challenge arises from the extreme disparity in size of the compounds. With a sequence of 165 amino acids, epoetin, for example, has a molecular mass of about 30,000 Da, hundreds of times larger than inorganic compounds such as the chemotherapy agent cisplatin. And unlike the chemical production of a small molecule compound, creating a large biologic drug requires living cells. "It's not quite like synthesizing something in a test tube," said Leonard Zwelling, MD, MBA, a clinical oncologist and professor of medicine and pharmacology at the University of Texas MD Anderson Cancer Center in Houston, who was not involved with the ISMP web seminar.
Because biosimilars are the product of living systems, it will be impossible for other manufacturers to perfectly match the structure of a brand-name biologic. Although a biosimilar could have the majority of the same chemical constituents as a reference drug, post-translational modifications such as protein folding or other biological quirks of a cell line may affect a biosimilar agent's efficacy.
Dr. Li noted that the complexity of producing biosimilars would keep the costs of these drugs higher than the price of traditional generic pharmaceuticals. "But we are going to see some savings compared to the reference product," he said during the web conference. "Hopefully, that will increase access to expensive therapies."
John Mbagwu, PharmD, a clinical pharmacist for the medical consulting group Optum, told Pharmacy Practice News that, on the high end, estimates for the manufacture of a biosimilar would be about $250 million. Although this is a fraction of the average $1.2 billion cost of bringing a new drug to market, manufacturing is not the only expense that the biosimilar approval process will incur. Compared with a generic drug, a biosimilar requires more rigorous safety and efficacy data to earn approval.
Ensuring Biosimilar Safety
Approval for generic drugs must show bioequivalence in form, safety and route of administration, and the agents are not required by the FDA to undergo comparative clinical trials. Biosimilars, on the other had, must demonstrate that they are "highly similar" (Figure). To guide manufacturers looking to bring biosimilars to market, the FDA has released three draft recommendations. In a 2012 draft guidance, the agency said that approval of a biosimilar must be based on "data derived from analytical studies, animal studies and a clinical study or studies," under the BPCI Act.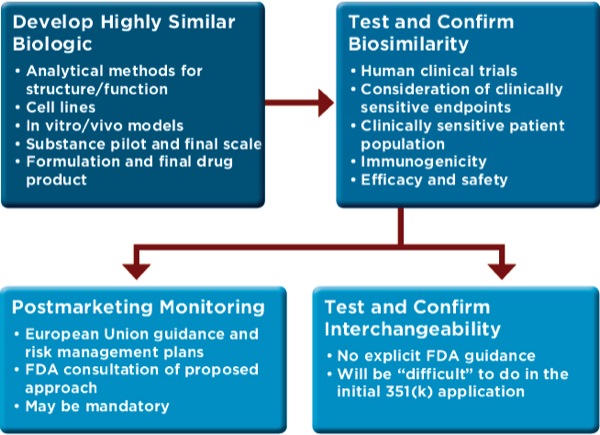 Figure. Biosimilar development approach.
Because biologic drugs are manufactured in cells derived from hamsters, rabbits and other organisms, they pose varying risks for immunogenicity. A patient's immune system may produce antibodies that neutralize the biologic, or develop antibodies that trigger antibody-mediated disease or other adverse reactions. Dr. Li cited an increase in the number of cases of pure red cell aplasia linked to biologic erythropoietin products in the 1990s.
"The whole point of this abbreviated biosimilar [approval] pathway is [to allow] the FDA [to] prospectively review these agents, so we don't have immunogenicity issues in the future," Dr. Li said. To that end, the FDA has recommended comparative parallel studies in its guidances.
But the requirement for clinical data increases the projected costs of biosimilars. Although generic drugs can be purchased at cost reductions of up to 80% of the price of branded versions, a 2011 review reported that estimates for biosimilars prices would be 15% to 30% less than the reference drug (Clinicoecon Outcomes Res 2011;3:29-36).
In June, the chief executive officer of Celltrion announced that the biosimilar version of infliximab, Remsima, would be more than 30% cheaper than Johnson & Johnson's Remicade. Celltrion is seeking approval for Remsima in Europe, where more than a dozen biosimilars have been approved by the European Medicines Agency. In the European Union, biosimilars saved an estimated $2.6 billion (1.9 billion euros) in 2009, according to the European Generic Medicines Association.
Overcoming Prescriber Skepticism
When biosimilars become available in the United States, a large body of clinical data will be needed to help overcome another hurdle—prescribers' skepticism. Biosimilars of infliximab, such as Remsima, have been studied in patients with rheumatoid arthritis and may rely on "indication extrapolation" to be approved and/or used for inflammatory bowel disease and other indications. A 2013 study conducted by the market research firm BioTrends found that about 70% of the 90 gastroenterologists surveyed would not prescribe a biosimilar that had only been tested in patients with rheumatoid arthritis.
Additional clinical data will also enable certain biosimilars to be labeled interchangeable, a term that has already come under fire in the United States. Under a provision of the BPCI, biosimilars deemed interchangeable by the FDA can be substituted without a pharmacist notifying the prescribing physician.
A bill passed by California's state Senate would have voided that provision, requiring pharmacists to notify prescribers which biosimilar drug they had dispensed. Responding to calls from the Generic Pharmaceutical Association and other critics, Gov. Edmund G. Brown vetoed the bill. In a letter to the state Senate, Mr. Brown pointed out that the FDA has not yet determined the standards for interchangeability, writing, "to require physician notification at this point strikes me as premature."
The question to ask becomes not when will biosimilars become available in the United States, Dr. Zwelling said, but when will doctors prescribe them?
"Until I see a trial in which the biosimilar and the [reference] drug are compared head to head, in real patients with real cancer," he said, "I wouldn't prescribe it, and I wouldn't let my mother take it."
---
Dr. Zwelling reported no relevant financial disclosures. Dr. Li has served on advisory boards for Amgen and Hospira.